FilmTech2

FilmTech2
FilmTech2 Spray System :
The CSI FilmTech2 Aqueous Film Coating System has been designed and developed based on established industry standards for control of film coating, in a side vented coating pan.
Using atomised spray nozzles with spray width and cleaning pins, the FilmTech2 automatically controls all aspects of nozzle use.
Designed for use with between 2 and 6 nozzles, all standard sizes of machine can be operated.
Taking advantage of modern touch screen technology, the FilmTech2 has, as standard, many features available on other spray systems but with far more flexibility and better ergonomics.
Compatible Manesty Flowtab connections for easy replacement or upgrade .
External Enable/Inhibit.
External Start/Stop.
Time based Auto Stop.
Minimum Temperature Auto Stop.
Nozzle Auto Clean.
FilmTech² Spray System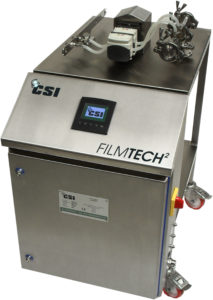 Dimensions (Width x Depth x Height)

540 x 845 x 1011

Spray Nozzle

Air Atomised

Pump

Watson Marlow

Electrical requirements

Pump Speed
Trolley Weight
Compressed Air Pressure (Supply)